If you are looking for something beyond traditional dentures and bridges, there's good news for you as there are several types of dental implants that you can opt for instead.
Did you know that studies have shown a 95% success rate for implant dentistry? As per the American Association of Oral and Maxillofacial Surgeons, almost 69% of adults in America in the age group of 35 to 44 have lost at least one tooth to decay or other oral health problems.
Dental implants are an excellent option for such patients. If you have lost a tooth or are on the verge of losing a severely decayed one. In that case, you should discuss the possibility of getting dental implants with your trusted or family dental professional. If your case is truly dire, you may also wish to learn how much do full mouth dental implants cost exactly?
However, let us first explore the different types of dental implants and how they can help you?
What are Dental Implants?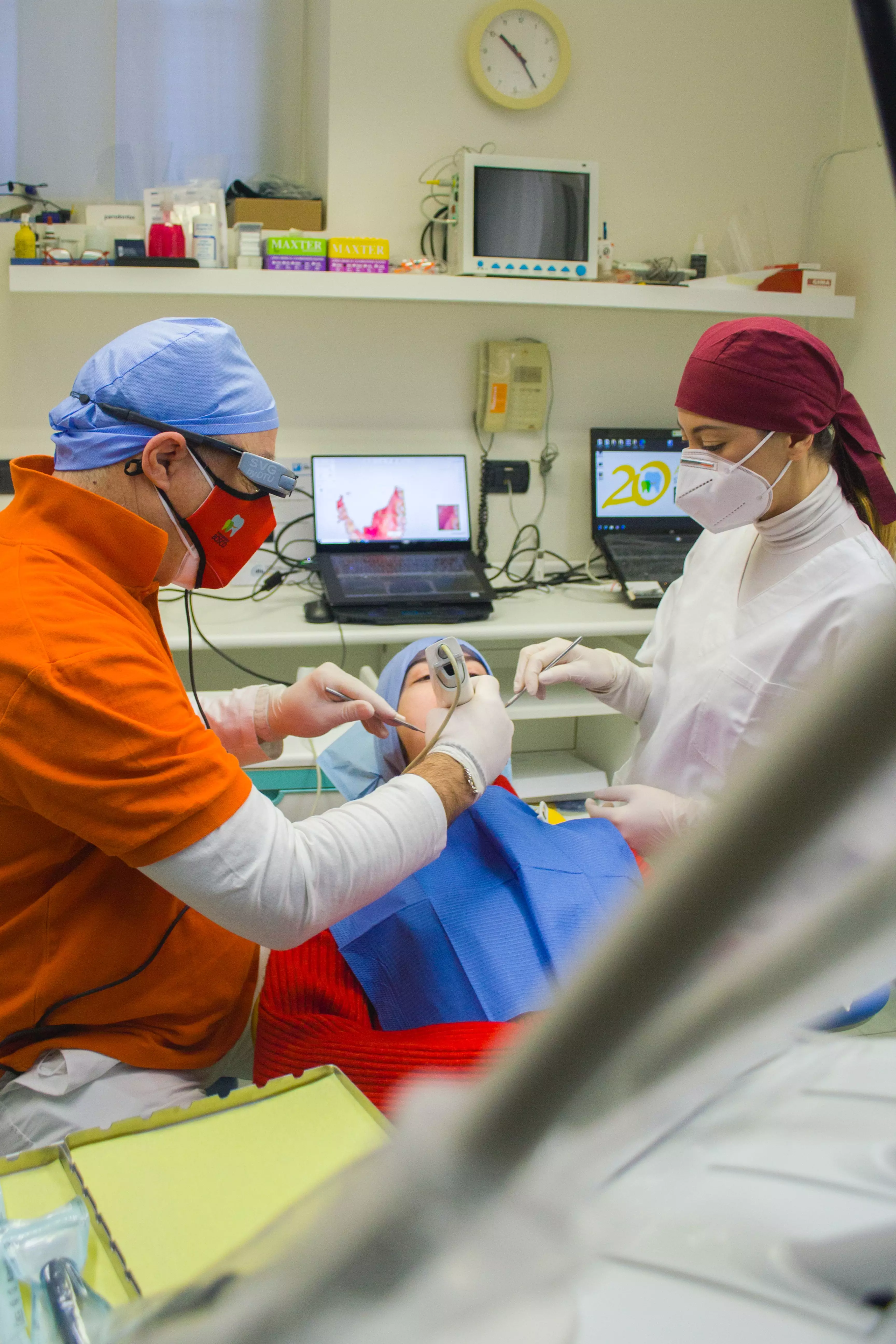 A dental implant can be described as an artificial tooth root or screw inserted into your jaw bone. It's an increasingly popular option for tooth replacement after a tooth extraction or removal.
Structure of a Dental Implant: How are Different Types of Dental Implants Inserted
A standard dental implant consists of 3 main parts, with each piece performing a different yet essential function:
The metal implant that looks like a screw is surgically inserted into your jaw bone and acts as the artificial tooth's root.
Once the metal screw is implanted, a connector or an abutment holds the artificial tooth or crown in place.
Last we have the crown or the artificial tooth that rests atop the abutment. Crowns are made from porcelain due to their similarity to your natural teeth's shape and look.
As your dentist will tell you, a dental implant is a far better option for your missing teeth as it helps promote bone growth while also preserving your natural teeth.
However, everyone is not a viable candidate for these types of dental implants. Once you ask your local or family dentist about getting dental implants, they will conduct a series of tests and examinations to determine whether you qualify for dental surgery or not.
The process may be a bit drawn-out and intense, yet getting dental implants is a far better option for your oral health in the long run.
It's a two-stage process, where you have to wait three to six months post-tooth extraction for implant insertion. Once the implant is inserted, you must wait for 2 to 5 months for osseointegration before the crown is fixed.
We will explore different types of dental implants in greater detail below.
Here are the Main Types of Dental Implants
Did you know that Mayans performed the first dental implant back in 600 A.D.? Interesting fact, isn't it?
There are 2 main types of dental implants:
Endosteal Implant: The endosteal implant form or root form implant is the most popular dental implant used today. These implants resemble a metal screw and are made from titanium, small screws, and an alloplastic material that is an artificial tissue graft.
Subperiosteal Implant: This type of dental implant is extremely rare. It's mainly used in patients who do not have enough jawbone left for implanting endosteal implants.
This type of dental implant is inserted under the gums, either on or above the jawbone. A subperiosteal implant is not surgically inserted into the bone.
At the same time, a dentist may also choose to augment a weak or narrow jawbone with bone grafts. They fuse with the jawbone over several months, strengthening it naturally to hold all types of dental implants.
Let us now learn about the four types of dental implants available for teeth replacement.
Single Tooth Implant: A single dental implant is ideal for those who are missing just one tooth. You can consult your local dentist and get a single tooth implant for aesthetics, functionality, and comfort.
A single implant comprises a single crown that connects to an implanted screw and costs somewhere between $3000 to $4000.
Implant-Supported Bridge: These are an ideal solution for those with several missing teeth. An implant-supported bridge uses implants as anchors for the bridge in place of natural teeth.
A fixed or implant-supported dental bridge improves eating and speaking functions considerably while preventing further movement of the remaining natural teeth.
All-on-4 Dental Implants: All-on-4 dental implants are recommended for patients who need permanent solutions for several missing teeth.
These dentures are permanently attached to the jawbone and can be removed only by dental professionals. Titanium screws are implanted into your existing jawbone and used to support the dentures or crowns. It's called all-on-4 dental implants, as the technique requires four implants per jaw.
Snap-on Dentures: Snap-on-dentures are another excellent solution for patients with several missing teeth. These implant-supported dentures are fixed in place using 2 to 6 implants and can be removed before sleeping or for cleaning. Please note that only the snap-on dentures are movable, not the implanted posts.
These are less expensive than permanent implant-supported dentures and work like a snap-on button on a shirt. So, now that you're up-to-date about the different types of dental implants, let's see why you may need them.
Why Do You Need Dental Implants
After exploring the different types of dental implants, here are the primary factors that qualify you as a viable candidate for dental implants:
Tooth loss due to periodontal disease
Tooth loss due to accident or injury
Loss of Tooth due to genetic or hereditary factor
The following factors are a must for you to be a strong candidate for dental implants:
Significant jawbone density or strength
Good dental health
Free of periodontal disease
Unable to or unwilling to wear dentures
Discover the Pros and Cons of Dental Implants
Once you have learned all about the types of dental implants, another question naturally arises: Is getting dental implants the right choice for you? Let's dive into their pros and cons below:
| | |
| --- | --- |
| Pros | Cons |
| All types of dental implants are designed to look like natural teeth and boost self-confidence. | They do not whiten like your natural teeth. |
| Function like natural teeth, allow you to speak and eat naturally. | They require surgery which is a rather invasive procedure. |
| Reduce stress on your natural teeth as they offer independent support. | They are expensive, but their benefits are entirely worth it in the long run. |
| Preserve your jaw bone and prevent aging and loss of bone height. | You may need bone grafting if you do not have enough natural jawbone remaining. |
| They are easy to clean, maintain, and last longer than bridges and dentures, i.e., 15 to 25 years. | |
FAQs
How much do dental implants cost?
While the cost of dental implants varies from patient to patient, the average cost of dental implants lies somewhere between $3000 to $5000. This covers the cost of implantation, abutment, and crown installation. X-rays, bone grafting, C.T., and tooth extraction are added expenses.
While dental implants cost more than dentures or bridges, the overall cost is usually covered by insurance. At the same time, the long-term benefits of the different types of dental implants far outweigh the short-term higher costs.
If you have several missing teeth, you can ask your local dentist how much full mouth dental implants cost. Another point to consider is that the cost will vary across different types of dental implants.
Does insurance cover dental implants?
Dental implants are covered by your medical insurance when you can show that the implants are medically necessary.
Dental implants are medically necessary to prevent further loss of teeth and stop any facial structure changes caused by missing teeth. Once you have an estimate for dental implant surgery or how much full mouth dental implants cost, you can contact your insurance provider for more.
What to expect after a dental implant procedure?
You may experience the following symptoms for a week or two post-implantation:
Swelling of your gums and face
Minor pain and bleeding at the implant site
Minor bruising of your skin and gums
You will further need pain medication or antibiotics after surgery. You may also need to go on a liquid or soft-food diet for a few days immediately post-surgery. Your clinic should give you a list of guidelines to follow and explain them in greater detail.
5 Ways To Get Low-Cost Dental Implants
These post-op care instructions will also vary for different types of dental implants.
Find Your Perfect Smile With Osseo Family Dental
At Osseo Dental, we pride ourselves on providing dentistry with a personal touch. If you need a consultation on the types of dental implants or require comprehensive family dental services for your entire family, contact us. Our team of family dental experts is at your service.
If you are looking for trusted family dental services in Osseo, MN, you can request an appointment by calling at (763) 425–2626 or drop us an email at: info@osseofamilydental.com.